Deirdre Murphy
Primary tabs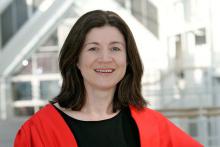 Title:
Professor Deirdre Murphy, MB BCh BAO BA MRCOG MD CCST
Biography:
Position: Professor and Head of Obstetrics and Gynaecology
Research
My research interests incorporate applied and aetiological epidemiology and more recently clinical trials addressing antenatal, intrapartum and postnatal care. I have completed formal training in epidemiology and biostatistics at the University of Oxford. I collaborate with colleagues in Obstetrics, Neonatology, Ananaesthetics, Epidemiology and Public Health, Health Informatics, Health Services Research and Social Sciences. I have an International reputation in the field of operative delivery. I set up an operative delivery cohort in Bristol (2000) that has generated 9 peer-review publications to date (Lancet x1, BMJ x3, BJOG x1, AJOG x3, Birth x1). I have 3 trials in progress or completed in the last five years and am the Independent Chair of the Trial Steering Committee for 2 multicentre RCTS and a member of the Data Monitoring Committee for a further trial. I employ qualitative research methods to address the patient's perspective in relation to obstetric interventions. I am a busy obstetrician and have a proven track record in enlisting the support of patients and clinical colleagues in the conduct of intrapartum research.
Membership & Awards
MB BCh BAO BA (1989) Trinity College, University of Dublin.
Diploma in Epidemiology (1995) Faculty of Public Health, Royal College of Physicians.
MRCOG (1996) Royal College of Obstetricians & Gynaecologists.
MD (1997) Trinity College, University of Dublin.
CCST (2000) Royal College of Obstetricians & Gynaecologists.
Previous Appointments
Professor and Head of Obstetrics and Gynaecology, University of Dundee. 2002- 2006
Consultant Senior Lecturer in Maternal Medicine, University of Bristol. 2000- 2002
Clinical Lecturer in Obstetrics and Gynaecology, University of Bristol. 1998-2000
Grants
Tenovus Research Charity 2004-2006, £82,500.
Randomised controlled trial of routine versus restrictive use of episiotomy for instrumental vaginal delivery.
Murphy DJ, Strachan B.
National Screening Committee 2005-2006, £30,000.
National survey of antenatal screening and intrpartum care for preventing Group B streptococcal infections in neonates.
Dhillon C, Hughes R, Murphy D on behalf of RCOG.
Wellbeing of Women 2005-2007, £124,980.
Research Training Fellowship for Dr Rachna Bahl.
The skill, evaluation and assessment of operative vaginal delivery.
Strachan BS, Murphy DJ.
BUPA Foundation 2006-2007, £54,000.
Women's experience of decision making following a previous caesarean section – DipeX study.
Montgomery A, Shaw A, Fahey T, Murphy DJ.
HRB 2007-2008, €25,000.
The concept, provision and promotion of woman-centred care during pregnancy and birth in Ireland.
Devane D (PI), Murphy DJ (Co-investigator).
HRB 2007-2010, €300,000.
A randomised controlled trial of ovytocin bolus versus bolus and infusion for the control of blood loss at caesarean section.
Murphy DJ (PI), Carey M.
Friends of the Coombe 2008-2011, €300,000
Medication exposure and perinatal outcomes among a cohort of pregnant women.
Research fellowship for B Cleary.
Murphy DJ, Cleary B.
Health Service Executive 2008-2009, €100,000.
Alcohol exposure in pregnancy and perinatal outcomes.
Murphy DJ, Barry J.